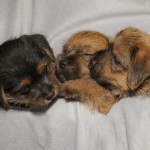 Add your your photos to our 'family album'. Send photos as a jpg attachment to the webmaster, and don't forget to tell us something about the dog, the circumstances, and the name of the photographer. Continue reading →
Artist Dana Hawk has captured the personality of Peggy Metcalf's Pivot. Continue reading →
Check out the 'interesting information' site for newly added links. We're adding more and more and would love to know what sites you find particularly interesting, helpful, and/or just plain entertaining. Email the webmaster with your suggestions.
ANTA's Spring Fling will be held on June 23rd & 24th at Spring Cove Farm in Maryland. Whoopee … can't wait.  We  are also holding a summer event in upstate New York on July 22nd … complete with AKC earthdog … Continue reading →
Interesting Information
Here are some sites you might find helpful, interesting, or just fun. Keep checking back as we will be adding more sites when the stars align.