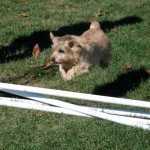 Kilkenny's Mountain Heather, CDX, CGC, TDI
The angels came to take our beloved, precious little angel Heather home to Heaven. Her gallbladder and bile ducts were filled with stones. She was almost 14 years old and had mitral valve heart problems. Surgery wasn't an option. Our vet came to our home so she went to sleep in my arms. She is buried in our back woods with Choucobear and Winston … my two daughter's Labradors.
Our hearts are broken and we will miss Heather terribley. She loved everyone and everyone loved her.
Heather was a great ambassador for the breed. Many people, both friends and strangers, bought Norfolks because of her sweet, happy, loving nature. She was our obedience star. She didn't just qualify to get her CD and CDX, but received placements from first to fourth and was the highest scoring Norfolk Terrier in the country and the 9th highest scoring dog among all Terriers when she earned both her titles.
The children from Haven of Hope for Kids (children with life threatening diseases) that came to our farm to see and ride the horses and donkeys will really miss her, too. They used to love to put her through her obedience paces and get kisses from the longest tongue in the world.
She was a very special, once in a lifetime 'little girl'. Rest in God's peace, my precious love, "Heather Pie".
Beverly Kerrigan
(Published in ANTIC June 2010)