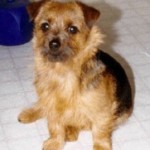 Aberschan Mary Todd, CD, CGC, TD
2/19/98 – 2/1/11
Glycie was my first dog, first Norfolk, truly the best thing in my life, and I was devastated when she succumbed to chronic lymphocytic leukemia. She was always "the brains of the operation" in my family. Independent, and boss of her brother, Cooper. When Glycie had to deal with her new sister, Toula, three years ago, she was very tolerant in the face of constant action.
Glycie and I went through many adversities and adventures together, such as the 1998 Mechanicville tornado, when we stayed in a Red Cross shelter and appeared there on the 6:00 news.  When my computer monitor suddenly started smoking, Glycie and Cooper sat down by the computer and kept barking alerting me to a possible disaster.
The 2008 ice storm proved Glycie to be positive and stoic through it all. Finally, when it became so cold, she was a perfect guest in my sister's house, helping me set the tone for her brother and sister. Glycie even put up with my attempts in obedience training, when I'd always get so nervous in the obedience ring … poor girl – she was smarter than her owner. [Ed. Note: Glycie earned her CD and had one leg toward her CDX]
I must add that I am grateful to Jim Covey and Jim Zabawa for allowing me to have such a wondrous little girl. The day that I cam to pick up my new Norfolk puppy will be remembered forever.
Glycie, your loss is almost too much to bear, and your Norfolk siblings and I miss you so much. I look around and can still see you.  My "Little Buns of Steel," enjoy a carrot for us!
Judy Carbauh
(Published in ANTIC March 2011)