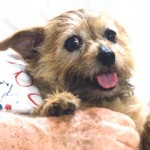 Redford Daisy Clover at Owen
8/2/98 – 1/17/11
Twelve and a half  years ago, shortly after we'd lost our first Norfolk, I learned of a four month old female that was available. So we beat a path down to Joan Rawlins in New Jersey and found Daisy. She would be our third Norfolk, and our fifth dog. We hadn't had a female since we'd lost our Westie, Maggie, and I was looking forward to having another girl in the house. I remember thinking on the way home, "At least we won't have to worry about losing her for a very long time." But somehow, that far-off day always has a way of coming. Our day of reckoning came on January 17th.
Fiercely protective of her toys (and everyone else's) she was otherwise a sweet and endearing dog.
About two weeks before we lost her, Daisy decided she didn't like her food anymore – unheard of for a Norfolk unless there is something wrong. Tests could not find the source of the problem. I will always carry with me the sight of my husband down on his hands and knees, dipping his finger in baby food for her to lick off. We finally had to make the decision either to put her down, or to let her starve to death. The choice was obvious.
Our hearts are truly broken, but as much pain as we may feel upon losing her, the joy she brought to our lives makes every bit of pain worthwhile.  Daisy was never the prettiest Norfolk, but in our eyes, she was absolutely beautiful! Her passing has left a huge hole in our lives!
Sue Owen
(Published in ANTIC March 2011)