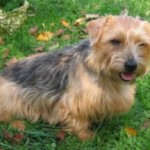 Rathedon Toby Mug (Toby)
8/98 – 4/11
Dear Toby died.
He was such a special little guy. Thirteen years ago Toby came into the world. It was an unusual event. His mother and father had a liaison, an unsanctioned one. We used the morning-after pill, but exactly 62 days later, an adorable little black and tan puppy was born. He was called Oops at first, but then he won all our hearts, and we named him Toby.
He matured into a fine looking Norfolk, maybe on the larger side, but good conformation. One small problem – his bite was good, but his front teeth were a bit crooked – though not enough of a fault for going for his championship. So he and I started to do the show thing. First we went to handling class. The first time Toby barked the entire hour of the class – this was not what he wanted to do!
Eventually he got better and we headed off to shows. He collected about seven points, but really didn't enjoy it. About this time, his wonderful father, Barley – my shadow, my love – succumbed to the Norfolk heart trouble, and died at the age of six. When I realized that Toby had a double dose of the genes for this condition, from both his father and his grandfather, I decided not to breed him. And if that was the case, why subject him to this showing business? So we stopped.
From then on, Toby's life was filled with hunting, and playing with his best friend, Lily, who came to live with us when Toby was one. As Lily ad her puppies, Toby became the puppies' Dutch uncle. He taught them all about mud and reflections and squirrels and hunting. Toby loved going to the ANTA events. He was a top racer and lure courser, winning lots of times, and earning quite a reputation. But going-to-ground was not his activity – he just couldn't be persuaded to bark, though one white rat did lose a toe to him.  After Lily's death, Shandy came to live with us, and again, Toby had a playmate. He taught her puppies, too.
Six years ago we moved from Katonah, NY to Kent, Conn. There had been coyotes in Katonah, but there were even more in Kent, as well as bobcats, and at least one mountain lion. So a bouncy black Lab came to live with us.
Cody arrived, and immediately became [my husband] John's exercise machine. Toby had been diagnosed with his father's heart condition, so after a while he couldn't go on walks anymore. But he continued to be the senior officer in the house, and found that he often had to tell that bouncy Lab what to do with himself – an interesting dynamic I our canine house!
Right up to the day Toby died, he took good care of himself. He enjoyed every morsel of food – he would have been enormous if left to his own devices. He was usually snuggled up next to my feet at I worked in my office, and if my feet were bare, he would lick me endlessly.
We will all miss that quirky little guy – he had so much love in him. We are just so happy that we had him with us for as long as we did.
Liddy Baker
(Published in ANTIC June 2011)