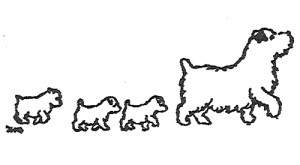 Here are some sites you might find helpful, interesting, or just fun. Keep checking
back as we will be adding more sites when the stars align. (Just because a site is on this list does not imply endorsement by ANTA. If you have a good experience … or a poor one … with any vendor or organization please send a message to the webmaster.)
AGILITY
Equipment at reasonable prices.
A Complete Guide to Canine Agility (on the Hunting Dog USA website) has been suggested by Ashley B., a student in Mrs. Crawford's fourth grade class in NYC. Thank you, Ashley, we like input from young people!
All things agility including "the" agility magazine (Clean Run), a store, upcoming events, and more.
 

ARTISTS
Artist Dana Hawk does a wonderful job of capturing the personality of the dogs she paints. Check out her website.
BLOGS



Promise of interesting things about our four legged friends. "A World Leader in Dog News and Entertainment"
 CARDS/NOTEPAPER
Check this out for note cards and holiday cards and also check their 'links' to other sites.
EARTHDOG
New Jersey Beanfields Earthdog Club
Lots of information and a comprehensive listing up upcoming events
Village Green Farm  Earthdog Center
"The" place to learn about earthdog activities … a calender of events that includes upcoming practice sessions.
This is the club that will be holding earthdog trials the same weekend as our event in Cortland.  A great opportunity to do two trials on Saturday, July 21 and then attend the ANTA event the next day near Cortland.  Watch the site for posting of 2012 information.
Greater Boston Area Earthdog Club –
For those of you in New England … or those who may be vacationing in the area … GBAEC has practice days and trials in Gardiner, Mass.  It's a warm and welcoming club … with Norfolks usually in attendance. Check out the website.
LURE COURSING
Check out Lure Coursing on the AKC website. Would you like  your dog to get a CAT designation? Check out this activity for non-coursing breeds. If you've ever been to ANTA event, you know how much fun chasing a plastic bag can be if you're a little terrier.
MERCHANDISE OF VARIOUS SORTS
Fetch Dogs has a good supply of gates and a section for senior dogs
NORFOLK CLUBS ABROAD
The Norfolk Terrier Club of Great Britain
This is a wonderful website representing our 'roots' across the pond.
SUPERINTENDENTS – AKC LICENSED
TERRIER 'THINGS'
All sorts of "things" for the Terrier lover.
Everything you need to train, show, and condition your performance and show dogs.
VETERINARY INFORMATION