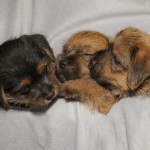 Add your your photos to our 'family album'. Send photos as a jpg attachment to the webmaster, and don't forget to tell us something about the dog, the circumstances, and the name of the photographer. Continue reading →
Artist Dana Hawk has captured the personality of Peggy Metcalf's Pivot. Continue reading →
Check out the 'interesting information' site for newly added links. We're adding more and more and would love to know what sites you find particularly interesting, helpful, and/or just plain entertaining. Email the webmaster with your suggestions.
ANTA's Spring Fling will be held on June 23rd & 24th at Spring Cove Farm in Maryland. Whoopee … can't wait.  We  are also holding a summer event in upstate New York on July 22nd … complete with AKC earthdog … Continue reading →
No matter what holidays you celebrate, or how you observe them, ANTA hopes everyone ends 2011 and starts the New Year healthy, happy, and surrounded by Norfolks and other furry friends.
There are all sorts of opportunities for photos at this time of year … Norfolks in the snow? Maybe. Strolling on the beach near warm Gulf waters? That's a possibility, too. Tearing up the gift wrap (under supervision of course)?  … Continue reading →
Check out the articles page for more pictures from the Fall Festival. It was a fine weekend with great dogs, great company, and great weather. Put it on your 'things to do' list for next year!
More photos from our 2011 Fall Festival, taken by Sue Owen, give a real glimpse of how much fun we had on the day. Continue reading →
If you would like to 'Friend' the American Norfolk Terrier Association on Facebook, we'd love it!  If you would like to 'Friend' an individual, such as our officers, board members, newsletter editor, etc., … please do that directly by searching … Continue reading →
We're already in the planning stages for a spring event, a summer event, and next year's Fall Festival.  Watch for details in ANTIC and here on our web page. We're excited about what the new year will bring!
Interesting Information
Here are some sites you might find helpful, interesting, or just fun. Keep checking back as we will be adding more sites when the stars align.